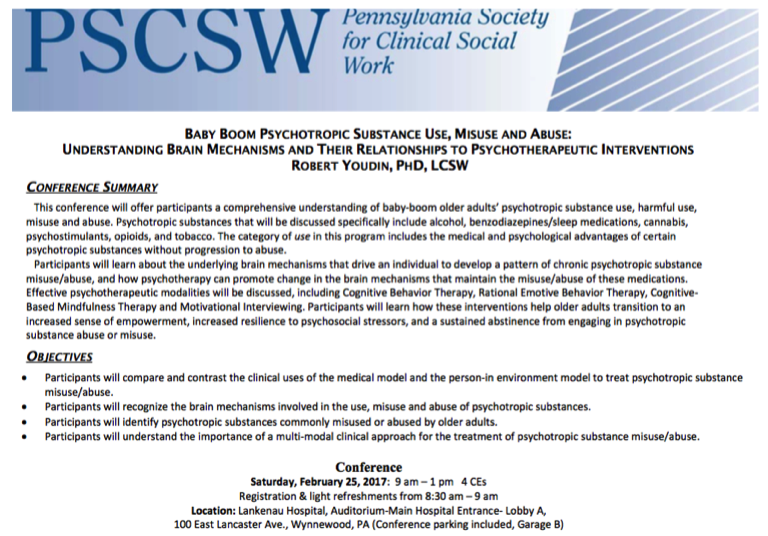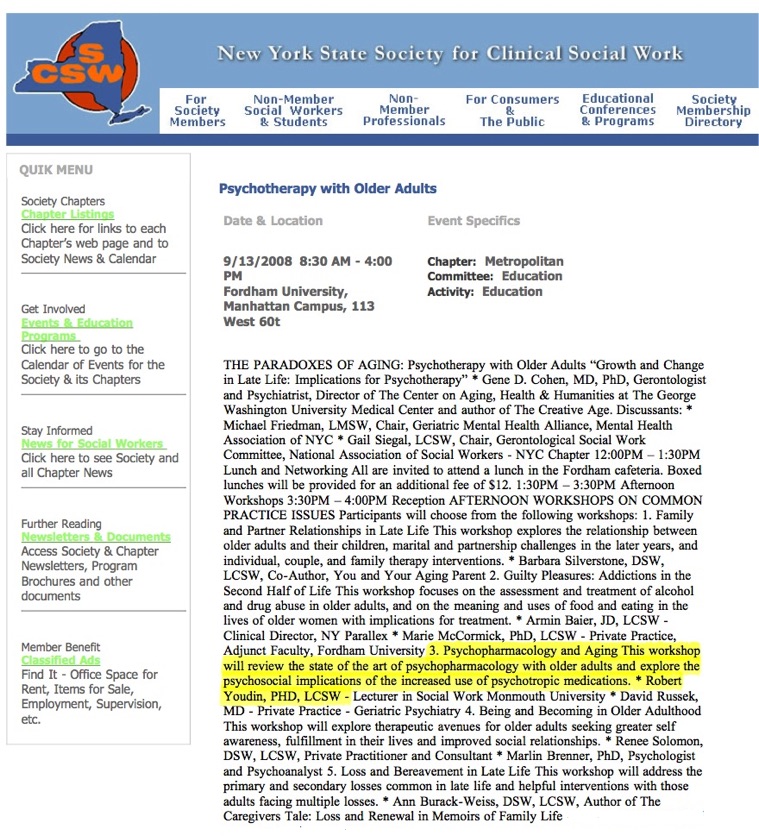 Youdin, R. & Mahoney, J. (2007).  Social work and
nursing students' biases toward African American
Hispanic, gay male, and lesbian old people: A
foundation for subsequent human rights violation
in health care and mental health service delivery. 
Paper presented at Yeshiva University, Wurzweiler
School of Social Work 50th Anniversary
Conference, (May 9), New York.
Mahoney, J. & Youdin, R. (2007).  Nurses and social
workers' perceptions of older people of diverse
groups.  Paper presented at the 17th International
Nursing Research Congress - for Fourth
International Evidence-Based Nursing
Pre-conference and 17th International Nursing
Research Congress (19-22 July), Vienna, Austria.
Youdin, R. (2005).  Mental health professional subtype:
predictor of accuracy of DSM-IV-TR diagnosis of
older people.  Paper presented at St. Anne's
College in the University of Oxford, August 7-12,
Oxford, England.
Youdin, R. & Sever, B. (2005).  Law enforcement
officers' perception of aging populations:  Is there a
need for more training?  Paper presented at the
Academy of Criminal Justice Sciences Annual
Meeting, March 15-19, Chicago, Illinois.
Youdin, R.  (1979).  The missing link in dieting, paper
presented at Grand Rounds, Obesity Research
Center, St. Lukes Hospital Center, New York, New
York.
Youdin, R. & Hemmes, N.S. (1978).  The urge to
overeat - the initial link, paper presented at the 49th
Annual Meeting of the Eastern Psychological
Association. Washington, D.C.
Begleiter, H., Porjecz, B. & Youdin, R. (1978).
  Protracted brain hyperexcitability after withdrawal
from ethanol in rats, paper presented at the
Ninth Annual NCA-AMSA-RSA Medical Scientific
Conference of the National Alcoholism Forum, St.
Louis, Missouri.
Spence, D.P., Lugo, M. & Youdin, R. (1974).  Cardiac
correlates of cognitive processing, paper presented
at the American Psychosomatic Annual
Meeting, Philadelphia, PA.